Photography in Zambia: A call for in-kind camera donations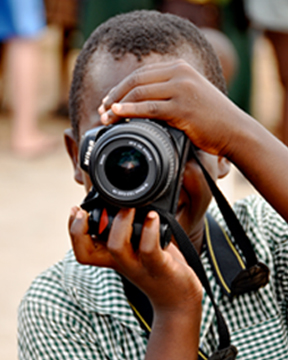 This summer, Spark Ventures' partner in Zambia will be launching a brand new photography program, targeted to specifically serve the children of Hope Community School. Providing cameras to the school will dramatically improve their arts curriculum, allowing these children access to a whole new form of expression. To successfully launch this program, we need your help! We're reaching out to the generous network of Spark supporters to ask for in-kind donations of new or gently used point and shoot digital cameras, with accompanying memory cards and USB cables. Have you recently upgraded your camera and still have the old one lying around? We'd love to take it with us to Zambia and put it in the hands of some of the amazing children our partner serves.
The photography program will be an incredible addition to the arts and cultural curriculum at the school. Besides offering a great opportunity for the students to explore their artistic expression and individual discovery that photography can provide, Spark will make sure that Hope's staff is trained to take the program forward and continue developing it with the kids at Hope Community School.
We're looking forward to seeing the photography created by the talented and impressive children at Hope Community School and hope that you'll help make that a possibility!
If you are in the Chicago area and would like to drop-off a camera directly, please call our offices (773-293-6710) to set up a time to stop by.
If you're not in Chicago, or can't make it to our offices, you can still support this project by sending your camera to:

Spark Ventures
134 North LaSalle Street, 5th Floor
Chicago, IL 60602

Any questions? Contact Lucy Jodlowska, Spark Ventures Director of Partnerships at .